VideoList Plus (Pocket PC)
4.1.2
Includes PC Companion! Best-selling DVD, Movie, Video database inventory software. Comprehensive list of fields. Easy to use. Sorting. Filtering. Import, export, print data on PC.
Last update
20 Mar. 2006
Licence
Free to try |

$24.99
OS Support
Mobile
Downloads
Total: 258 | Last week: 0
Ranking
#66 in Entertainment
Publisher
Wakefieldsoft, Llc
VideoList Plus (Pocket PC) Publisher's Description
VideoList Plus™ is your complete DVD, movie, video, etc. organization software for Pocket PC or Windows Mobile handhelds, and it includes PC companion software! Keep track of DVDs, VHS tapes, home videos, etc. that you own, that you have seen, that you have rented, that you want to see/buy, and more. Determine if you have already seen a movie before you buy or rent it!
Video List™ has a simple and straightforward interface, and offers numerous useful features, including:
PC Companion Software - Included for easy access to Video List™ data on your desktop, including import, export, printing, and more!
Internet Data Lookup - Lookup and download DVD information from the internet, including cover graphics!
Comprehensive Field List - Large number of fields allow for detailed information for each record.
Search - The versatile searching in VideoList™ allows you to search on many different fields.
Sort and Filter - Sorting and filtering on the handheld and PC allow you to quickly narrow the list of records to easily find certain ones.
Import - Export Records - Import and export records from tab and comma delimited (CSV) files for convenient conversion from other applications.
Password Protection - optional password protection prevents other people from viewing your data.
Customizable Master Lists - Define your own list of categories, ratings, formats, status, actors, and more for easy dropdown access.
Much More - Download the free trial to see all of the features!
Details on page 1 include the most common information for easy access.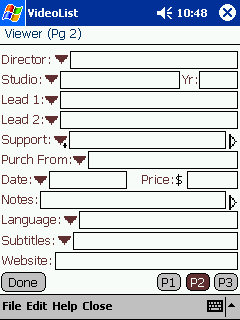 Details on page 2 add even more fields for recording additional information. Page 3 includes checkboxes for audio formats and other features.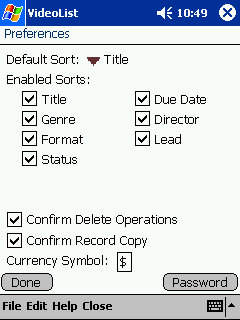 Customize the preferences to meet your needs. Set a password, turn on/off sort options, change the currency symbol, and more.

Includes PC companion software for easy data entry. Also, from the PC software, you can print, import, export, and more.

View the Getting Started Guide
Download our free trial version today!
See for yourself how easy it is to use, and try out all of the features. Then, after purchasing, we will send a registration code to enable the trial version to be fully functional. You won''t have to install again after purchasing. It''s that easy!
Look for Similar Items by Category
Feedback